FEATURED SPONSORS
MSC family would like to acknowledge the generous support of the following corporate sponsors
The Canadian Salsa Dance Corporation
Is a non–profit organization that promotes music, dance and Latin culture while bringing together a multi-ethnic audience. Our goal is to inform and educate emerging artists, recreational dancers and the public at large about latin music itself. To provide the ability to create knowledge and exchange networks for developing artists. To give you the opportunity to see Internationally renowned artists live and to benefit from nice amenities, an extensive media coverage and the pleasure to dance the whole weekend !
Please note that taxes are not included.
Tickets and passes are non-refundable and non-transferable
ALL COMPETITORS MUST HAVE A COMPETITION PASS
*WE RESERVE THE RIGHT TO MAKE CHANGES
SPONSORS
IT'S A WIN-WIN
Looking for the opportunity to become a part of the biggest event of the year? To put your company name in front of hundreds dancers? Want to show your dedication to our community? Consider a sponsorship at the MONTREAL SALSA CONVENTION!
Sponsoring the Montreal Salsa convention event provides you the unique opportunity to connect with our community, to build brand awareness and show your support towards the development of the arts!
Each event reaches a different key audience segment and provides a fun, entertaining and engaging way for you to approach potential clients.
Feel good about supporting our local/international artists, heritage and our cultural organization as you enjoy an unforgettable weekend!
VENDORS
With over 5,000 attendees throughout the long weekend, this is the biggest Salsa event of the year in the beautiful city of Montreal. The Convention features performances, competitions and workshops by professionals both national and international.
We invite you to be a part of our marketplace, an excellent way to increase your company's exposure and clients by displaying and offering your products. Don't miss on the opportunity to reach your target market!! (more details to follow)
VOLUNTEERS NEEDED - 15TH MONTREAL SALSA CONVENTION
The Montreal Salsa Convention is a 4-day festival that takes place during The Victoria day Weekend and is getting ready for its 14th edition. The event consists of a weekend full of competitions, workshops, social nights and international shows. The volunteer program is designed to compliment every aspect of the convention. Mission For the Montreal Salsa Convention, volunteers are of a crucial importance. They contribute enormously to the organization and development of the event. The overall goal of the team of volunteers is to make the experience of the event unique. Our event was designed to show the wonders of latin dance to a person of any level of dance. Pre-requisites Being bilingual (English, French)Be able to commit to a minimum of 3 hours a week. Available until June 8th Internship – The program / hours will vary depending on the position. This is a perfect opportunity for students who want to gain direct experience in their field. Volunteers / Intern teams Event production: Equipment installation, flyer distribution, promotion articles, preparing documents, etc. Mobile volunteers: you must hold a valid driver's license, have a sense of initiative and be able to travel for the purchase of equipment (eg IGA, Reno Depot). Airport greeter volunteers: English and Spanish are an asset; accompany the drivers to the airport, wait for the arrival of artists, identify and welcome guest artists, etc. Workshop registration volunteers: Welcome participants, validate their entry,  supervision of dance rooms, etc. Booth/Shop assistant volunteers: sales experience is an asset. Sale of promotional articles, inventory of products, etc. Host/Hostess volunteer during shows: Must assist stage coordinator, production assistants, backstage managers, etc. (Must be bilingual and have a good ability to work under pressure.)Competition Assistant volunteer: Must help competition coordinators in all necessary tasks. Social media volunteer: Spanish is an asset, engage with the convention clientele, grow the social network, create relevant and original posts, etc. Ticketing Assistant Volunteer: Process payments, customer service, ticket management and event passes, etc. Graphic Designer volunteer: Create promotional banners, images for sale of passes, show all aspects of the event through a modified image To make your applications, please send us your C.V. to  
Hotel
Hyatt Regency® Montreal
The 2019 Montreal Salsa Convention is back at the newly renovated Double Tree by Hilton Montreal for it's 15th Edition. Take advantage of special rates by checking the link below.
Experience the warm hospitality of Montreal with a distinct French flavor at the Hyatt Regency hotel. Step into the uniquely designed upper and lower lobbies and enjoy the residential-feel of a cozy living room setting warmed by two fireplaces. A chic, Montreal hotel in the downtown area that offers direct underground access to the Palais des Congrès and two Montreal metro lines, with easy access to Sainte-Catherine Street, downtown shopping centers, Chinatown, Old Montreal, Place des Arts, and the Metro transport system.
BOOK NOW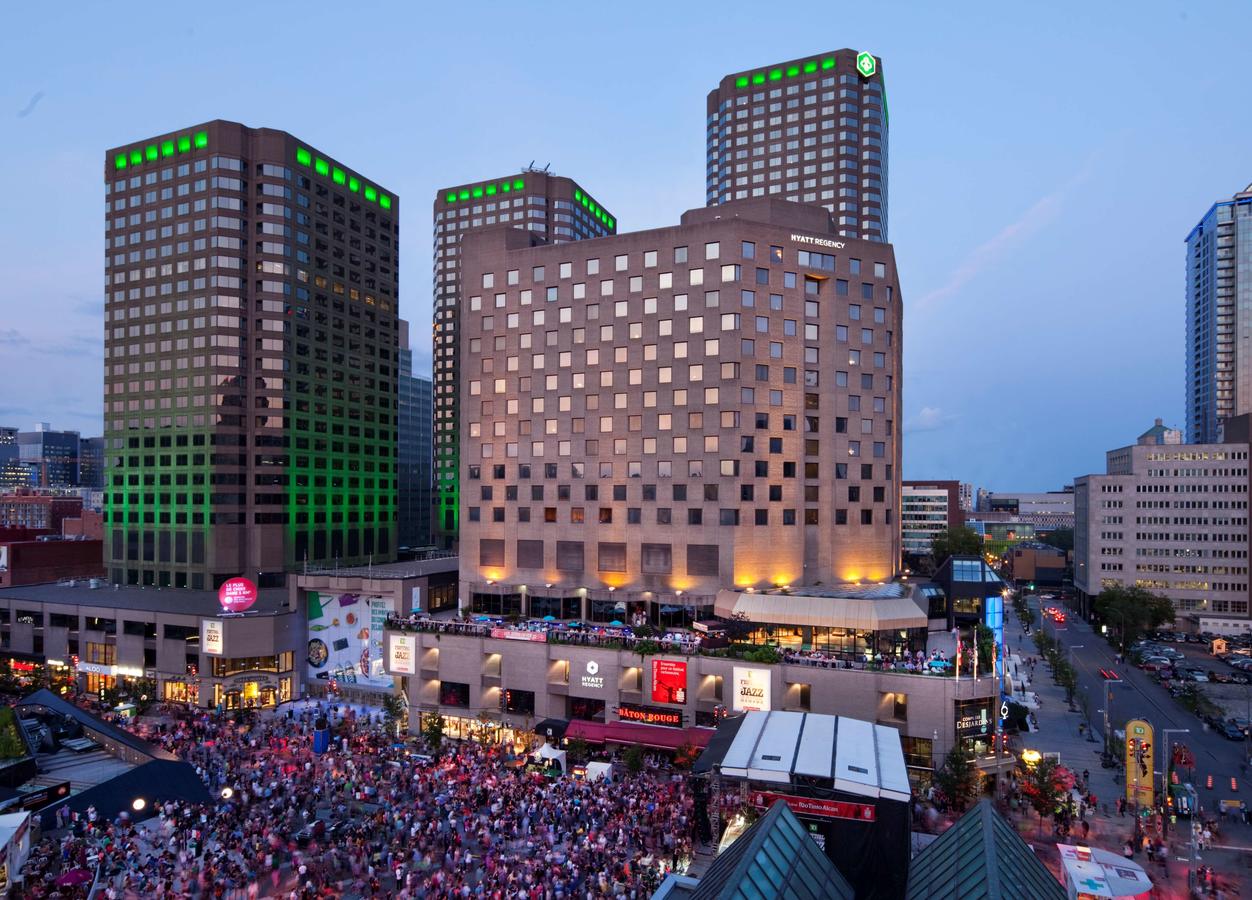 SPECIAL RATES FOR MSC RESERVATIONS
1255 Jeanne-Mance, Montreal, QC H5B 1E5, CANADA Place-des-Arts Metro Parking available.
Rooms:
– A Deluxe room with two double Grand Beds or 1 king size bed featuring ultra-plush pillows, the softest of sheeting and thick down blankets; all piled atop irresistible pillow-top mattresses. – 37″ flat screen TV – Amenities include generous work area with ergonomic chair – Free WIFI -And much more!!! 1255 Jeanne-Mance, Montreal, QC H5B 1E5, CANADA  Place-des-Arts Metro Parking available.
☆☆☆☆☆
in the heart of the vibrant entertainment district
Our Montreal hotel is conveniently connected to Complexe Desjardins featuring over 100 boutiques and restaurants linking us directly to Palais des Congrès